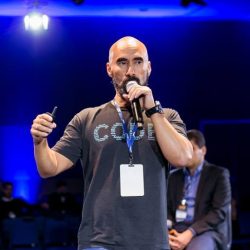 Como melhorar e agilizar o seu atendimento utilizando um ChatBot da forma mais inteligente
Você aprenderá em poucos passos a como criar o seu ChatBot
e receberá dicas de como torná-lo mais inteligente e eficiente.
Você receberá um e-mail para confirmar a sua participação 
Senior Developer Advocate Leader for Latin America
IBM Associate Certified Architect
Technology Leadership Council Member
IBM Digital Business Group
Automation engineer with 25+ years experience in IT as developer , systems analyst, consulting, solution architect, project manager and operations manager. 15 years in financial industry, as a solutions architect, specialist in EDM, BPM, distributed applications and backoffice solutions for bank. 8 years as solutions architect, project manager and operation manager for insurance and private pensions solutions, with solutions deployed in Brazil, China and India, responsible for architecture, development, delivery and support. Project manager for ERP in a variety of industries, including chemical, electronics, health and financial. Since 2009 at IBM as Cloud Technology Leader for Latin America, specialist in cloud computing, cognitive computing and Internet of Things.
Today is the main evangelist of IBM Latin America for platform of digital innovation, acting as speaker in the main events, conferences and congress in Brazil and abroad, in companies and universities, also acts as mentor for hackathons, accelerators and incubators in Latin America.